Watch Series Ms Ts Music Factory Online Free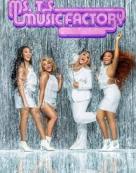 Watch Series Ms Ts Music Factory Online for free at CouchTuner.
You're never too young to be the next "American Idol." Temmora Levy sets out to prove just that in "Ms. T's Music Factory," as the former recording artist makes it her mission to help talented youngsters achieve their highest potential through music. Overcoming a tough upbringing in and out of foster homes and developing a love for the art of singing and performance, Temmora now runs Arommet Academy, an artist development academy in Memphis, Tenn., and manages her daughter Meisha's pop girl group, KARMA. Dangling a coveted spot to open for KARMA at one of their shows as incentive for her students, Temmora has her work cut out for her as she prepares her charges for stardom and deals with their demanding stage parents.
ONLINE STREAMING
Episode List